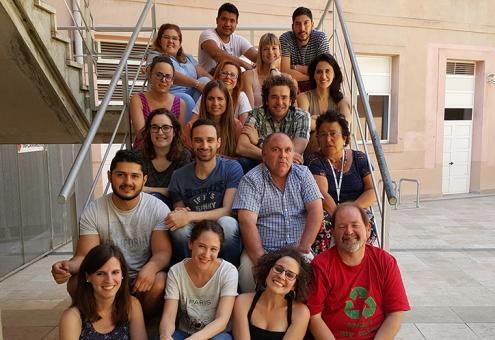 ---
Team leader
Josep Guarro Artigas
Postdoctoral Researcher
Adela Martín Vicente
Alba Pérez Cantero
Alberto Miguel Stchigel
Dania García Sánchez
Isabel Pujol Bajador
Javier Capilla Luque
Josepa Gené Díaz
José Francisco Cano Lira
Loida López
Maria José Figueras Salvat
Marta Sanchís Talón
Researcher contributor
Emilio Mayayo
Ernesto Roan
Kendra Rodríguez Morejón
Resarchers in training
Alba Pérez Cataluña
Ana Fernández Bravo
Dàmaris Lorenzo Gutiérrez
Emmanuel Rosas De Paz
Isabel Antonieta Iturrieta González
João Paulo Zen Siqueira
Marcela Isabel Guevara Suárez
Nicomedes Miguel Antonio Valenzuela Lopez
Patricia Navarro Rodríguez
Our work can be divided into three areas:
Medical Mycology: Modeling of fungal infections in small rodents. Test new compounds with antifungal activity by in vitro and in vivo systems as well as to explore new therapeutical strategies. Development of histologic techniques for the diagnostic of fungal infections as well as evaluate the efficacy of experimental treatments in animal models. Studies on fungal virulence factors and their role in the establishment and development of fungal infections.
Fungal biodiversity: Taxonomic study of known fungal species as well as description of new species by classical and molecular tools.
Environmental Microbiology: Studies of bacteria as bioindicators of water quality as well as their virulence factors and their incidence into the human populations.
---
---
Cabañes, FJ, Sutton DA, Guarro, J. Chrysosporium-Related Fungi and Reptiles: A Fatal Attraction (Article)PLoS Pathogens I.F. 7.562, Q1-D1 Volume 10, Issue 10, 1 October 2014, 4p
Lackner, M.a , de Hoog, G.S.bcdqaiakan , Yang, L.b, Ferreira Moreno, L.bc, Ahmed, S.A.bc, Andreas, F.a, Kaltseis, J.a, Nagl, M.a, Lass-Flörl, C.a, Risslegger, B.a, Rambach, G.a, Speth, C.a, Robert, V.b, Buzina, .e, Chen, S.f, Bouchara, J.-P.g, Cano-Lira, J.F.h, Guarro, J.h, Gené, J.h, Fernández Silva, F.h, Haido, R.i, Haase, G.j, Havlicek, V.k, Garcia-Hermoso, D.l, Meis, J.F.mn, Hagen, F.m, Kirchmair, M.o, Rainer, J.o, Schwabenbauer, K.o, Zoderer, M.o, Meyer, W.p, Gilgado, F.p, Schwabenbauer, K.p, Vicente, V.A.qr, Piecková, E.s, Regenermel, M.t, Rath, P.-M.u, Steinmann, J.u, de Alencar, X.W.v, Symoens, F.w, Tintelnot, K.x, Ulfig, K.y, Velegraki, A.z, Tortorano, A.M.aa, Giraud, S.ab, Mina, S.ab, Rigler-ohenwarter, K.ac, Hernando, F.L.ad, Ramirez-Garcia, A.ad, Pellon, A.ad, Kaur, J.af, Bergter, E.B.ae, de Meirelles, J.V.ae, da Silva, I.D.ae, Delhaes, L.ag, Alastruey-Izquerdo, A.ah, Li, R.-Y.ai, Lu, Q.aj, Moussa, T.akal, Almaghrabi, O.ak, Al-Zahrani, H.ak, Okada, G.am, Deng, S.an, Liao, W.an, Zeng, J.ao, Issakainen, J.ap, Liporagi Lopes, L.C. Proposed nomenclature for Pseudallescheria, Scedosporium and related genera (Article) Fungal Diversity I.F. 6.221- Q1 D1 Volume 67, Issue 1, 23 September 2014, Pages 1-10
Gsaller F., Hortschansky P., Furukawa T., Carr PD., Rash B., Capilla J., Müller C., Bracher F., Bowyer P., Haas H., Brakhage AA., Bromley, MJ. Sterol Biosynthesis and Azole Tolerance Is Governed by the Opposing Actions of SrbA and the CCAAT Binding Complex. Plos Pathogens 2016. 12(12): e1006106
Martin-Vicente A, Guarro J, González GM, Lass-Flörl C, Lackner M, Capilla J. Voriconazole MICs are predictive for the outcome of experimental disseminated scedosporiosis. J Antimicrob Chemother. 2017 Apr 1;72(4):1118-1122..
Guevara-Suarez M, Cano-Lira JF, de García MC, Sopo L, De Bedout C, Cano LE, García AM, Motta A, Amézquita A, Cárdenas M, Espinel-Ingroff A, Guarro J, Restrepo S, Celis A. Genotyping of Fusarium Isolates from Onychomycoses in Colombia: Detection of Two New Species Within the Fusarium solani Species Complex and In Vitro Antifungal Susceptibility Testing.Mycopathologia 2016 Apr;181(3-4):165-74
Rasmussen-Ivey CR, Figueras MJ, McGarey D, Liles MR. Virulence Factors of Aeromonas hydrophila: In the Wake of Reclassification. Front Microbiol. 2016 Aug 25;7:1337. doi: 10.3389/fmicb.2016.01337. eCollection 2016.
Figueras MJ, Latif-Eugenín F, Ballester F, Pujol I, Tena D, Berg K, Hossain MJ, Beaz-Hidalgo R, Liles MR 'Aeromonas intestinalis' and 'Aeromonas enterica' isolated from human faeces, 'Aeromonas crassostreae' from oyster and 'Aeromonas aquatilis' isolated from lake water represent novel species. New Microbes New Infect. 2016 Nov 24;15:74-76
Siqueira JP, Sutton D, Gené J, García D, Guevara-Suarez M, Decock C, Wiederhold N, Guarro J. Schizophyllum radiatum, an Emerging Fungus from Human Respiratory Tract. J Clin Microbiol. 2016 Oct;54(10):2491-7
Espinel-Ingroff A, Colombo AL, Cordoba S, Dufresne PJ, Fuller J, Ghannoum M, Gonzalez GM, Guarro J, Kidd SE, Meis JF, Melhem TM, Pelaez T, Pfaller MA, Szeszs MW, Takahaschi JP, Tortorano AM, Wiederhold NP, Turnidge J. International Evaluation of MIC Distributions and Epidemiological Cutoff Value (ECV) Definitions for Fusarium Species Identified by Molecular Methods for the CLSI Broth Microdilution Method. Antimicrob Agents Chemother. 2015 Dec 7;60(2):1079-84.
Cornely, O.A., Arikan-Akdagli, S, Dannaoui, E, Groll, A.H, Lagrou, K, Chakrabarti, A., Lanternier, F, Pagano, L, Skiada, A, Akova, M, Arendrup, M.C, Boekhout, T, Chowdhary, A, Cuenca-Estrella, M, Freiberger, T, Guinea, J.s, Guarro, J.t, de Hoog, S.l, Hope, W.u, Johnson, E.v, Kathuria, S.o, Lackner, M.w, Lass-Flörl, C.w, Lortholary, O, Meis, J.F, Meletiadis, J, Muñoz, P, Richardson, M, Roilides, E, Tortorano, A.M, Ullmann, A.J, van Diepeningen, A, Verweij, P, Petrikkos, G. ESCMID and ECMM joint clinical guidelines for the diagnosis and management of mucormycosis. Clinical Microbiology and Infection, 2014 20(S39): 5-26
Sandoval-Denis, M, Gené, J, Sutton, D.A, Cano-Lira, J.F, de Hoog, G.S, Decock, C.A, Wiederhold, N.P, Guarro, J. Redefining Microascus, Scopulariopsis and allied genera. Persoonia: Molecular Phylogeny and Evolution of Fungi June 2016; 36:1-36