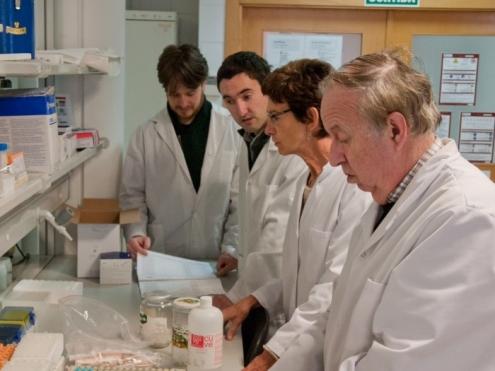 ---
Team leader
José Luis Domingo Roig
Technical Manager
Marta Schuhmacher Ansuategui
Area Managers
Domènec J. Sánchez Cervelló
Jordi Sierra
Margarita Torrente Torné
Maria Mercedes Gómez Arnaiz
Martí Nadal Lomas
Mª Teresa Colomina Fosch
Paloma Vicens Calderón
Victòria Linares Vidal
Vikas Kumar
Researcher contributor
Ana Bocio Sanz
Elga Schreiber
Fiona Peris Sampedro
Francisco Sánchez
Jaume Folch
Joaquim Rovira Solano
Jordi Blanco
Laia Gasol
Laia Guàrdia
Luís Heredia Santaella
Maria Angeles Martinez
Montserrat Bellés Mateu
Montserrat Mari Marcos
Montserrat Marqués Bueno
Mª Isabel Llovet Lombarte
Neus Gonzalez
Noelia Dominguez
Pia Basaure
Raju Prasad
Roser Esplugas
Venkatanaidu Karri
Technician
Resarchers in training
Fedra Luciano Mateo
Noemí Cabre
The main objectives of the Environmental Technology Center for Food and Toxicology (TecnATox) are:
To carry out research in environmental protection at European level.
To stimulate innovation through collaborations between the private and public sector.
To meet the needs of the governments and the private sector.
To carry out knowledge transfer and technology actions, in order to improve the health and quality of life of the population, company workers as well as protecting the environment.
In order to accomplish them, the Center is organised in various thematic areas:
Experimental toxicology

Risk Assessment for Food Health and Toxicology

Neurotoxicology, psychopharmacology and behavioral sciences
Ecotoxicology
Radiobiology
Neuropsychology and emotions
Systems toxicology
---
---
Garcia T, Schreiber E, Kumar V, Prasad R, Sirvent JJ, Domingo JL, Gómez M. Effects on the reproductive system of young male rats of subcutaneous exposure to n-butylparaben. Food Chem Toxicol. 2017, 106(Pt A):47-57.
Blanco J, Lafuente D, Gómez M, García T, Domingo JL, Sánchez DJ. Polyvinyl pyrrolidone-coated silver nanoparticles in a human lung cancer cells: time- and dose-dependent influence over p53 and caspase-3 protein expression and epigenetic effects. Arch Toxicol. 2017, 91(2):651-666.
Bellés M, Gonzalo S, Serra N, Esplugas R, Arenas M, Domingo JL, Linares V. Environmental exposure to low-doses of ionizing radiation. Effects on early nephrotoxicity in mice. Environ Res. 2017, 156:291-296.
Marquès M, Sierra J, Drotikova T, Mari M, Nadal M, Domingo JL. Concentrations of polycyclic aromatic hydrocarbons and trace elements in Arctic soils: A case-study in Svalbard. Environ Res. 2017,159:202-211.
Rovira J, Domínguez-Morueco N, Nadal M, Schuhmacher M, Domingo JL. Temporal trend in the levels of polycyclic aromatic hydrocarbons emitted in a big tire landfill fire in Spain: Risk assessment for human health. J Environ Sci Health A Tox Hazard Subst Environ Eng. 2017, 7:1-8.
Karri V, Kumar V, Ramos D, Oliveira E, Schuhmacher M. An in vitro cytotoxic approach to assess the toxicity of heavy metals and their binary mixtures on hippocampal HT-22 cell line. Toxicol Lett. 2018, 282:25-36.